What makes the most of Kugoo E-scooter driving?
Kugoo e-scooters are a cheap, eco-friendly way to get around, especially for unreliable public transportation systems. You can get them running in a jiffy, they are lightweight, foldable, and for a speed enthusiast, the adult scooter offers strong performance bundled up in a stylish off-road capable two-wheeler. Kugoo e-scooters also come with a lifetime warranty and guarantee. They have gained popularity by offering great value options at different budgets for every transport need. But are they really that good? And what is it like driving a Kugoo e-scooter? Well, here's a breakdown of why driving a Kugoo scooter is a fun experience and why you should get one.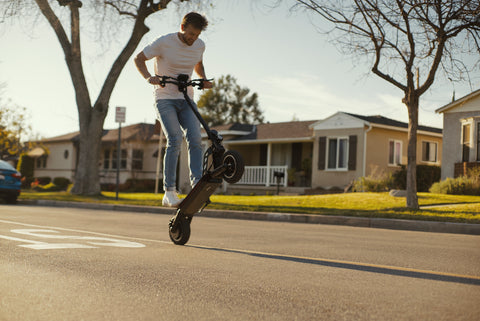 Fun and convenient
Forget waiting in traffic or at a fuel station; once you get on, you only get off at your destination, making your journey times quicker- depending on terrain. Steering is effortless, and the thrill of moving fast and gliding along the boardwalk is part of every trip. You can pair your e-scooter to your Kugoo app via Bluetooth, and the heads-up LCD display keeps track of your ride features. The motor is tucked underneath the deck, and with a light tap on the throttle, off you go. The handlebars are pretty easy to get used to and figure out where the controls are.
Just the perfect size
The Kugoo e-scooter features a brawny magnesium alloy body with dual suspensions that make off-roading pure bliss. The combo holds up well, and paired with the chunky antiskid pneumatic tires, you can look forward to a flex-free, noiseless ride. With the height adjustment control on the electric scooter, you can customize your ride experience to match your needs.
Since it's only 1200 x 620 x 1210 mm (unfolded) and about 1200 x 620 x 530 mm when folded, you'd be forgiven for mistaking it as being small. At that sweet spot size, it doesn't feel too crummy or way too big and wobbly for smaller riders. The Kugoo adult scooter has a massive rubberized deck and a sturdy frame that can support up to 300kg payload, making it perfect for big riders.
Superior acceleration
The brushless motor configurations on the Kugoo scooter are an ambitious setup running on almost 2kW raw power or up to 1200W dual-motor. The scooter is powered by a 18.2Ah-23Ah 18650 Li-ion battery capable of speeds of over 50km/h. if you like the thrill of zooming past people and the air beating your face (you must have a helmet, of course), then the 25mph top speed is more than enough. The throttle doesn't slack, and the accelerator delivers flawless transition and efficient power transfer.
All-terrain
What it lacks in size, it more than makes up for in raw power. The Kugoo e-scooter breezes through flat surfaces and inclines of up to 25° making off-roading a pleasant experience. The proprietary powertrain delivers staggering performance with instant acceleration and confident braking. You have three modes to choose from; Economy, standard, and turbo, and thanks to the powerful motor and reliable battery, having enough juice isn't an issue.
Kugoo scooter has a solid magnesium alloy frame, and combined with the chunky, max grip antiskid tires, and powerful suspension, driving the scooter feels smooth, and the handling in corners is quite nice. The regenerative magnetic brakes guarantee a confident stop.
Plug and play
If you want a daily driver, the Kugoo scooter bundles up to 2000W battery power that can comfortably last through the day or 70km. Charging it is pretty easy; plug it in, and it's done. Getting it to full charge takes a little over 7hrs, so the overnight charge is perfect. The 5-mode charging system is quite handy, and the efficient motors ensure that you get excellent mileage per charge with close to 70km on a full charge or up to 20Km on a quick charge. The driving modes can let you be as conservative or as wild as you're feeling.
Delightful handling and ride quality
The robust suspension, chunky tires, magnesium alloy frame, and solid deck all combine to make every ride a great one. The wide tires give you excellent traction and control when cornering. The frame and suspension comfortably roll over bumps and cruise around even at high speed with no flex. The suspension offers a noiseless drive with great stability and reduced vibration. You also get an onboard scanner to give you more power at high speeds and effective cruise control for speed and steering that smooth out the ride and take over control at high speed.
E-scooter travel redefined
The Kugoo electric scooter is a no-brainer choice as a cheap electric scooter for adults. It offers the perfect blend of power and beauty with extra nice-to-have features that make driving the electric scooter less about fumbling controls and more about enjoying the ride. There's also a phone pairing feature so you can listen to some tunes on the way. Everything is thoughtfully put together for a delightful ride.
---